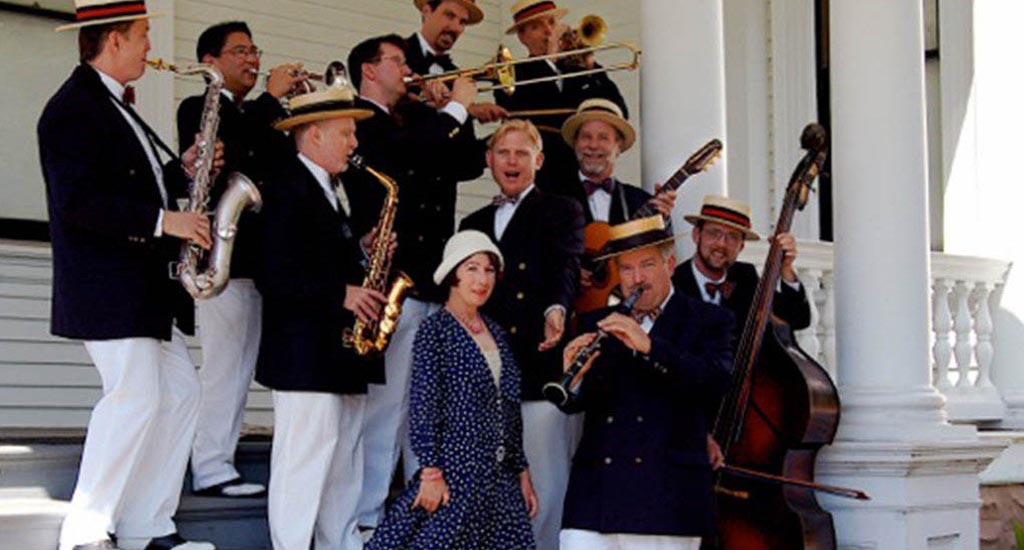 Days
Time – Location
Time – Location
Time – Location
Friday
Saturday
1:00PM – De Anza
2:30PM – De Anza
Sunday
Royal Society Jazz Orchestra
Don Neely and the ten piece Royal Society Jazz Orchestra are world renowned for capturing the essence of hot 1920's Syncopated Big Band Jazz and 1930's Swing with an approach both fresh and exciting. The innovators of the Jazz Age and Swing Era are the group's inspiration but the Royal Society Jazz Orchestra has a personality all its own and perpetuates the great music of that golden era.
You'll smile as this talented group of eleven musicians, including the period perfect Carla Normand, begin to play. Variety is their forte. You'll hear anything from the Cotton Club to Hollywood show tunes with a good dose of humor.
Electrified by the RSJO's sound, dancers burn up the dance floor to that scintillating rhythm. You ain't heard nothin' ʻtil you've heard the Royal Society Jazz Orchestra.
Don Neely – leader, reeds
Carla Normand – vocals
Andrew Storar – first cornet
Kent Mikasa – second cornet
Robert Embry – tenor, reeds
Dick Mathias – first alto, reeds
Steve Apple – drums
Dix Bruce – guitar, banjo
Frederick Hodges – piano, vocals
Marty Eggers – bass, tuba
Brent Bergman – trombone